PLAY WALL

On the 11th of May 2012 rehabilitation center Blixembosch in Eindhoven, part of the Libra Zorggroep, started working with a unique interactive play wall Nebula. Disabled children can play games on a 10m2 screen, as a way of physical therapy.
The play wall Nebula is developed by NYOYN, and can be described as a room-wide interactive touch screen with LED lights, that start from the floor and goes all the way up to the ceiling. NYOYN developed custom made games for the rehabilitation process at Blixembosch. This play wall lets children who are physically challenged do exercises as part of the therapy. During therapy children experience the exercises as fun. The games have been developed in close cooperation with physiotherapists and occupational therapists. For new games for this play wall other therapists will be involved as well.
For more information on this interactive play wall Nebula, please check our product page. If you'd like to know more about the possibilities of a Nebula in your environment, do not hesitate to contact us!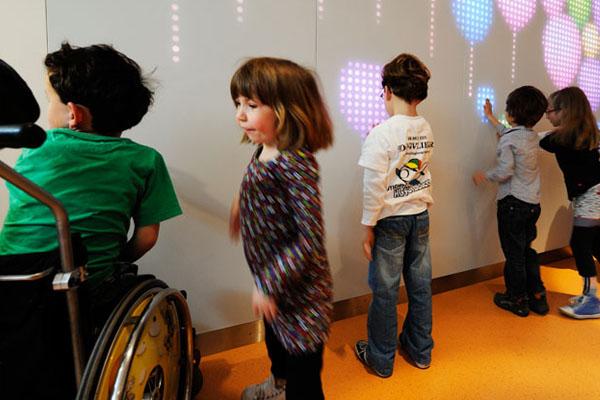 Ask about the possibilities